In the world of drumming, not all sticks are created equal – and the devil is often in the details, specifically in the drumstick tips. These small but critical components play an integral role in defining the sound, performance, and feel of your drumming experience.
This article will delve into the different types of drumstick tip shapes and materials, exploring how subtle variations can profoundly impact your music. Understanding these elements can enhance your playing style, helping you find the perfect drumsticks to complement your rhythm and beats.
Common drumstick tip shapes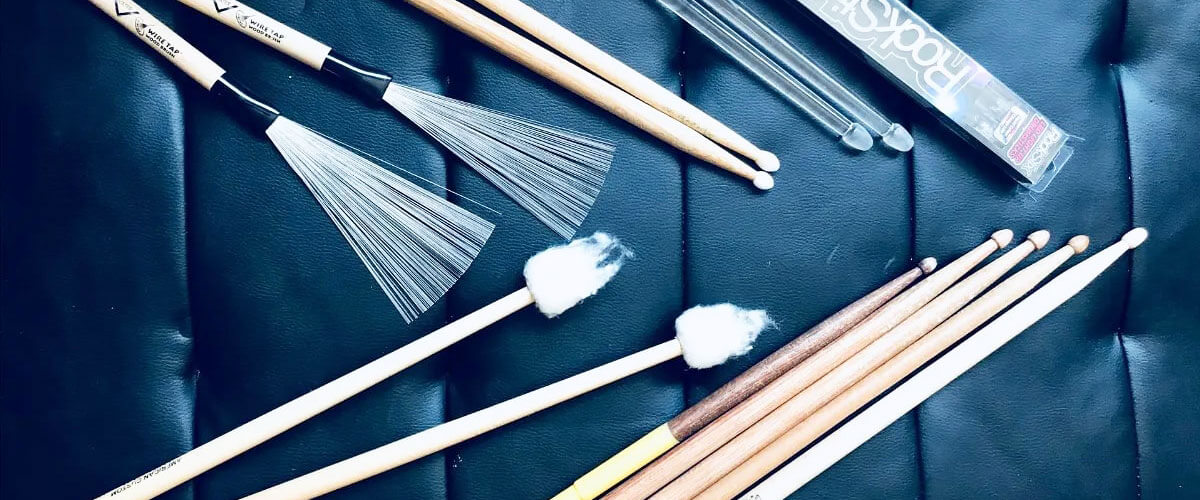 Based on my experience, I can claim that choosing the right drumstick tip shape can make a significant difference in your sound and playing style. Each tip shape has unique characteristics that influence the contact area with the drum, resulting in distinct tonal qualities. Here are some of the most common drumstick tip shapes:
| Type | Characteristics | Sound Qualities and Techniques | Popular Music Styles |
| --- | --- | --- | --- |
| Round Tip | Round tip drumsticks have a smaller contact area, which makes them excellent for focused, precise sounds. | Round tips produce a clear, bright, and articulate sound. They're perfect for fast, intricate playing techniques due to their precision. | They are popular in jazz, orchestral music, and any other music style that requires precision and clarity. |
| Oval Tip | Oval tips have a more extensive contact area compared to round tips. They have an elliptical shape. | They generate a warmer, fuller sound with less attack. They're versatile and can handle a range of playing techniques. | Oval tips are common in rock, pop, and country music, where a balanced, full-bodied sound is desired. |
| Acorn Tip | Acorn tips, shaped like an acorn, provide a medium-sized contact area, falling somewhere between a round and oval tip. | These tips offer a rich, full tone and a broader range of dynamics due to their shape. They're excellent for playing techniques that require a mix of both precision and fullness. | Acorn tips are versatile and popular in various music styles, including rock, jazz, and pop. |
| Barrel Tip | They are similar to oval tips but have a larger contact area due to their cylindrical shape. | Barrel tips produce a loud, robust sound with great mid-range. They're well-suited for playing techniques requiring power and volume. | Barrel tips are popular in heavier music styles like hard rock and metal, where a more substantial, louder sound is necessary. |
Drumstick tip materials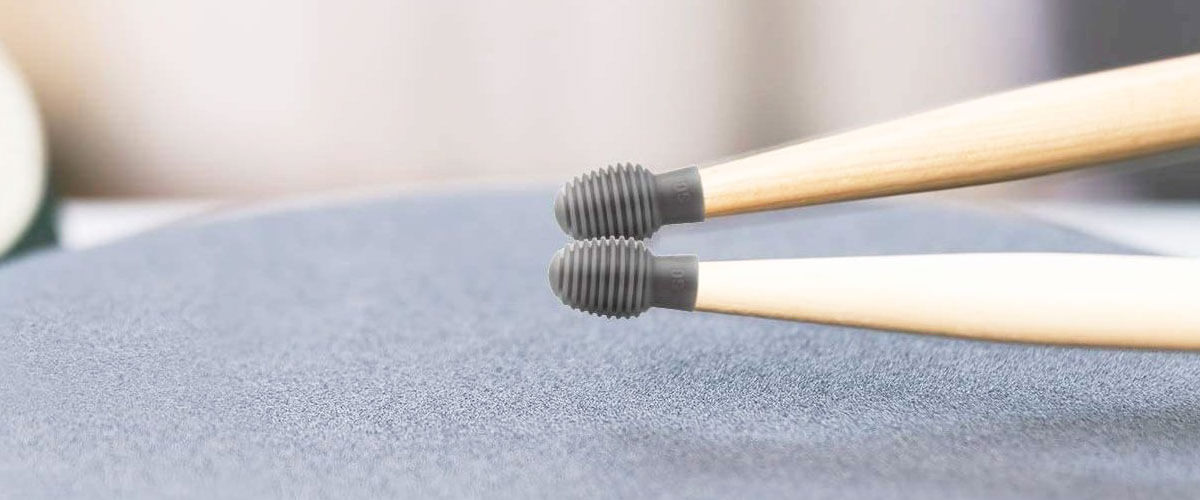 The material of drumstick tips can greatly influence the sound, durability, and feel of the sticks. Different tip materials and drumstick tips of different shapes and sizes can produce unique tones, making them suitable for various music genres. Here are some of the common materials used in drumstick tips:
Wood: Wood tips are popular due to their natural feel and warm tone. Made from the same wood as the stick (usually hickory, maple, or oak), they offer a softer, warmer tone compared to synthetic materials.

Hickory: Hickory, the most common tip shape and material for drumsticks, offers a good balance of strength, flexibility, and density.
Maple: These drumsticks are popular among jazz drummers due to their light weight and fast response.
Oak: Oak drumsticks are less common than hickory or maple but are favored for their durability and heavy weight.

Synthetic Materials:

Nylon: Nylon tips are favored in louder music genres like rock and metal and also for electronic drums.

Rubber: Drumsticks with rubber tips are usually used for practice. They provide a quiet sound, suitable for practice pads but not for regular drum playing.
Delrin: It is a type of thermoplastic often used for its durability.
Choosing the right drumstick tip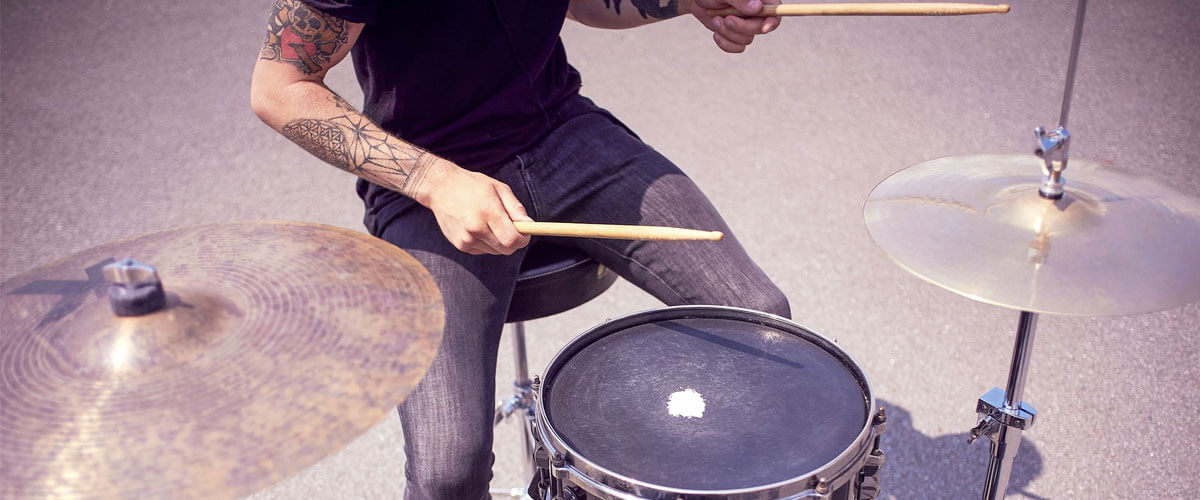 Picking the optimal drumstick tip requires careful consideration of various factors:
Sound considerations: The shape and material of the drumstick tip can drastically affect the sound produced. For instance, round tips provide a bright, focused sound, while oval tips yield a full, warm tone.
Playing style and genre: The tip shape and material should align with your playing style and music genre. For instance, barrel tips, known for producing loud, robust sounds, are suited for heavy music styles. Conversely, round tips, with their clear, articulate sound, are popular in jazz and orchestral music.
Technique and feel: The tip shape and material also influence the playability of the drumsticks. Different tip shapes will interact with the drumhead differently, affecting rebound and response. For example, round tips, due to their smaller contact area, provide a different feel and rebound compared to oval or barrel tips. Similarly, nylon tips might offer a different feel compared to wood tips.
Personal preference and experimentation: Ultimately, the choice of drumstick tip comes down to personal preference. Experimentation is key in finding the tip shape and material that works best for you. Trying out different drumstick tips will help you discover your unique sound and feel, enhancing your overall drumming experience.
FAQ
Which drumstick tip material is more suitable for playing on cymbals?
Nylon tips are often preferred for cymbals due to their brighter, more cutting tone and enhanced durability. However, some drummers prefer the warmer tone of wood tips. Ultimately, it comes down to personal preference.
Can I use different drumstick tip materials for different music genres?
Absolutely! Different tip materials can produce different tones, making them suitable for different genres. For instance, nylon tips might be preferred for rock and metal for their brighter sound, while wood tips might be chosen for jazz and blues for their warmer tones.
Are specific techniques or playing styles better suited to nylon tips?
Nylon tips are often preferred for louder music genres due to their brighter, more pronounced sound. They're also commonly used in playing techniques that require more attack and volume.
Can I replace the tips of my drumsticks if they become worn or damaged?
Most drumsticks are made with the tip and the stick as one piece, so replacing just the tip is not usually possible. However, some drumsticks have replaceable nylon tips. If your sticks have worn or damaged tips, it's typically better to replace the whole drumstick.